How to Use the Agremo App on DroneDeploy
Requesting Agremo Reports
Step 1 – Install the Agremo app to your DroneDeploy account
Install the Agremo app on your DroneDeploy account.
Or, when logged in to your DroneDeploy account, visit the App Market by clicking on the App Market icon in the top bar on your main dashboard screen.
Step 2 – Locate the Agremo app on your DroneDeploy data page
Click on a completed map to open it and view the data page. The Agremo app will be located in the left control panel in the "Annotations & Measurement" section.
Step 3 – Sign up for a new Agremo account (or log in to your existing Agremo account)
Click the arrow on the Agremo app to expand it. Then, either sign in to your existing Agremo account or register for a new Agremo account.
Step 4 – Sign in to your Agremo account inside of DroneDeploy
Enter your username and password in the Agremo app inside of DroneDeploy to log in.
Step 5 – Creating your first Agremo Report
In the Agremo app, click the "Select Analysis" drop-down menu and select either "Plant Population Report" or "Stand Count Report".
Then, enter the Field Name, Field Location, Crop Type, Plants per Acre, Growing Stage, and any other requested information.
Next, you'll need to use the Area tool to select the area in your DroneDeploy map that you wish to analyze. The Area tool is located in the Annotation & Measurement area of your DroneDeploy side panel.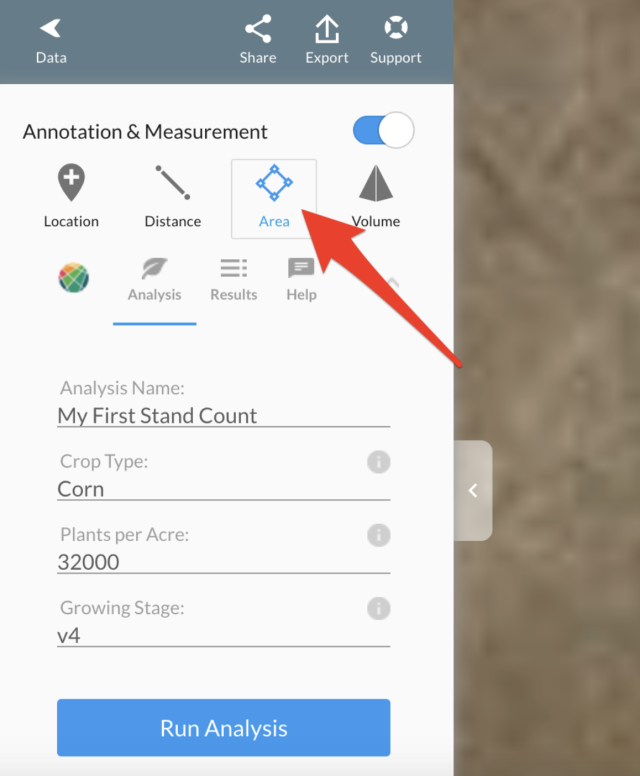 Click points on the map to outline the crop area. Then click "Run Analysis" to submit your data to Agremo to be analyzed.
Note: When you use Agremo app on DroneDeploy, please ensure that the marked area for which you want the results are the only ones appearing on your map. Otherwise, the cumulative report is going to be generated for all of the visible drawn areas and you will get deviation data.
Once your data is analyzed, you will receive an email containing links to view and download your final report within 2 business days. You can also view your past reports in the "Results" tab of the Agremo app inside of DroneDeploy.
Watch this short video to see how to use the Agremo app on the DroneDeploy App market.