Weeds, especially grasses and pigweeds, can significantly reduce soybean yields if not properly controlled. Soybean farming is a critical component of agriculture, providing a versatile crop for various uses, including food, animal feed, and industrial products. However, soybean farmers face numerous challenges, one of which is weed infestation. 
As the agricultural industry continues to evolve, innovative technologies are playing a pivotal role in optimizing crop management practices. Among these cutting-edge tools, mapping drones have emerged as game-changers, revolutionizing how farmers tackle weed control and herbicide savings. This real-world case study involves soybean farming to highlight the significant savings achieved by integrating drone technology and Agremo analytics.
The Challenge
Our customer, Jordan, a soybean farmer from southeast North Dakota, faced the persistent challenge of weed management in their crop. Various weeds, mainly grasses and amaranths, threatened soybean yield.
In the past, they used a standard method to spray weed killers. They would use 20 gallons per acre on the entire field. The plants reached the V4 stage of growth when this was done. This standard practice incurred substantial herbicide costs, contributing significantly to the total cost of soybean production.
Crop: Soybeans – Nature's Green Gold
Soybeans, often referred to as "nature's green gold," are a staple in modern agriculture. These all-around legumes are a valuable source of protein and oil and contribute significantly to soil health. However, soybean crops are constantly under threat from various weeds which can severely impact yield if left unchecked.

Source: Soybean calendar > USDA
The Critical Period for Weed Control (CPWC)
The concept of CPWC is invaluable in optimizing herbicide use and maximizing yield. During the crop growth cycle, farmers must control weeds to prevent yield losses. It helps in making informed decisions regarding the timing of weed control.
The Impact of Delayed Weed Control in Soybean
Soybean farmers must understand the cost of delaying weed control. Research indicates a 2% yield loss for every leaf stage of delay beyond the critical stage of weed control.
For instance, in soybeans planted in 7.5-inch rows, the critical stage for weed control is V3 (third trifoliate stage). Delaying weed control until the fourth trifoliate stage (V4) can lead to a 2% decrease in yield. Prolonged weed competition causes this decrease.
Weeds can steal vital nutrients, water, and sunlight, leading to reduced soybean yield and quality. Traditional weed management practices often involve uniform herbicide application across the entire field, which can be both costly and inefficient.
The Phantom 4 Pro Version 2: A Bird's-Eye View of the Field
The Phantom 4 Pro Version 2 mapping drone is a remarkable device. It can take detailed pictures of your soybean field from above. This bird's-eye view provides invaluable insights into the distribution and density of weeds across the field.
Agremo Weed Analysis- Green on Green Use Case
Farmers can use Agremo AI Analysis to accurately identify weed zones and problem areas in their fields, helping with precision agriculture.
Agremo Weed Detection can find weeds while crops are growing, showing where they are and accurately identifying weed problems in fields. It enables timely detection, allowing for variable prescription maps, immediate corrective actions, optimized weed control, and precise herbicide application. This enhances equipment efficiency and reduces herbicide expenses. Furthermore, Agremo weed detection benefits the environment by reducing over-application and the risk of herbicide runoff.
.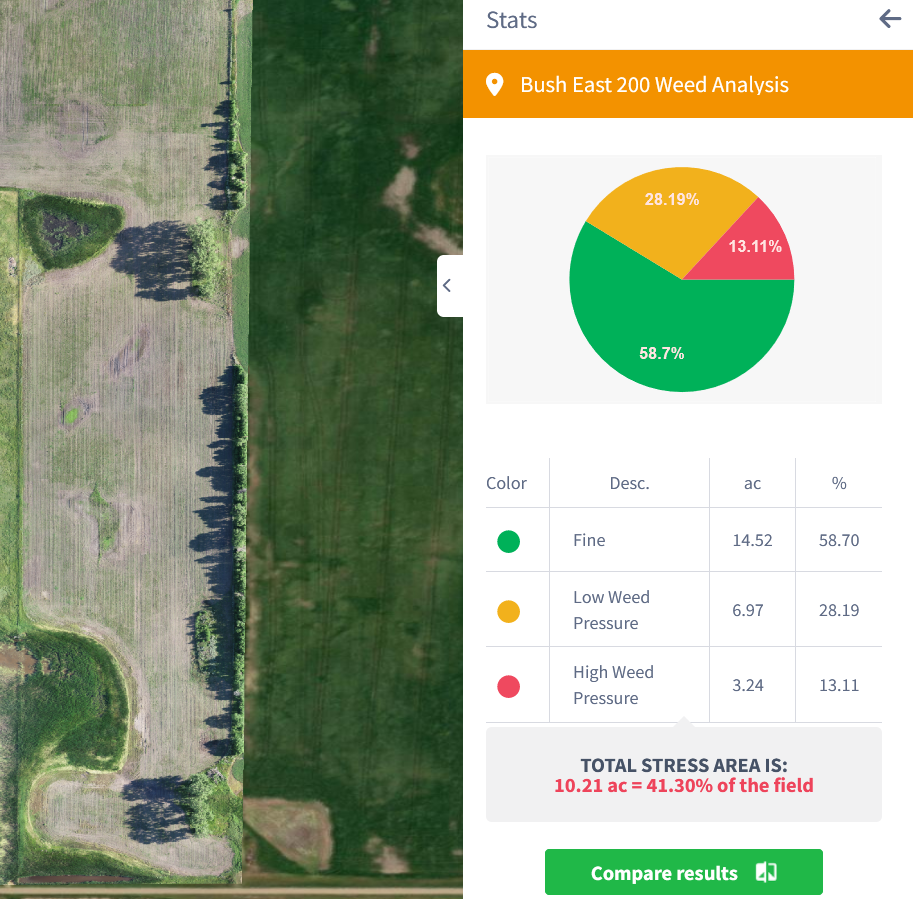 Armed with data from the drone and Agremo Analysis, farmers can make informed decisions about herbicide application. In this case study, we used the Case IH Patriot Sprayer, but the principle applies to various sprayer models.
Optimizing chemical applications is at the forefront of every Case IH Patriot sprayer's capabilities. The goal of high-efficiency spraying is to maximize the yield of every field by utilizing available resources effectively. This ensures the best return on investment. This equipment allows for targeted spraying, reducing the amount of herbicide required and minimizing potential environmental impacts.
Optimizing Herbicide Application
Instead of applying a uniform 20 gallons per acre of herbicide, Jordan adapted their approach based on the Agremo weed analysis results. They identified two distinct zones within the field: one with a higher weed pressure requiring 20 gallons per acre and another with lower weed pressure where 10 gallons per acre sufficed.
Herbicide Savings: A Strong Message for Sustainable Agriculture
The results were striking. By using drone technology and Agremo Weed Analysis to target herbicide applications, Jordan reduced herbicide use to 15 gallons per acre on average.
Using 25% less herbicide saved money and helped the environment, supporting sustainable farming practices.
"Agremo's weed analysis and variable prescription maps In has truly been a game-changer in my farming journey. Armed with the insights it provides, I'm not just growing crops; I'm growing smarter. As I plan for next season, I'm excited to implement even more precision and efficiency into my practices, thanks to Agremo's invaluable data."
Jordan, a soybean farmer in southeast North Dakota
Understanding the Total Cost of Soybean Production
Now, let's put these herbicide savings into perspective by examining the overall cost of soybean production.
The overall expenditure for producing soybeans per acre in 2021 was $695. In 2022, because of the additional precision agriculture practices, this cost increased to $833 per acre. Breaking this down further:
>>>Variable cash costs accounted for 36% of the total cost of production
>>>Other nonland costs constituted 31%
>>>Land costs made up the remaining 33%
In 2022, the cost of producing soybeans in the US was $12.43 per bushel. The average yield per acre was 67 bushels. In the past five years, it cost $10.64 to grow one bushel of soybeans on average.
Conclusion: A New Era in Precision Agriculture
Precision agriculture, as exemplified in this case study, is not merely a technological marvel but a tangible strategy for reducing costs and increasing sustainability in soybean farming. By using drones, data analysis, and variable herbicide application rates, farmers can significantly cut herbicide expenses while maintaining or even improving crop yields. This innovation not only benefits the farmer's bottom line but also contributes to the long-term health of our environment.
In a world where agricultural sustainability and cost-effectiveness are paramount, precision agriculture shines as a beacon of hope, demonstrating that we can reduce costs and conserve resources without compromising the quality and quantity of our harvests. It's a testament to the power of technology and data-driven decision-making in modern agriculture.
The integration of mapping drones, precision analysis tools like Agremo, and adaptable sprayers heralds a new era in precision agriculture. Farmers can now optimize herbicide use, reduce costs, and minimize the ecological footprint of their operations.
As we move forward, the message is clear: embracing technology-driven solutions not only benefits the bottom line but also contributes to more sustainable and responsible farming practices. With the power of innovation, farmers can protect their soybean crops efficiently and ensure a bountiful harvest for years to come.
It's worth noting that the investment in technology like mapping drones and precision analysis tools, while initially adding to the cost, often yields substantial returns by optimizing resource allocation and increasing crop yields. By embracing these technologies and adopting sustainable practices, soybean farmers can not only reduce costs but also enhance the overall profitability and sustainability of their operations.