R&D Micro-Plots Monitoring. Have complete control of your field trials.
Streamline your crop research, gather high-quality data and track your field activities on a plot level by subscribing to our R&D Micro-Plots Monitoring product. Monitor and measure plant growth with a reliable AI cloud-based field analytics solution.
They trust us
Technology and data are at the forefront driving decision-making nowadays in data-powered economies and societies. With further advancements in drone technologies and the rise of emerging technologies such as AI and IoT, stakeholders are poised to capitalize on these advancements to innovate processes, systems, and solutions to shape a better future.

ICBA

Dr. Ali Elbattay, Senior Principal Scientist for Remote Sensing and Drone Technology
---
Take your field trial experiments to a higher level
Count plants per micro-plot with high accuracy (red)
Efficiently capture data on field trials, inspect each plot during & after the growing season
Remotely track the progress of micro-plots
Team collaboration within the app
Automated quality assurance algorithms that verify data in the field, at the time of collection
Objective drone data supported by AI analytics

Count plants per micro-plot with high accuracy (red)
Supported
Analyses
Subscribe to our full R&D Micro-Plot Monitoring package to get all the analyses you need for precise crop data. Perform Micro-Plot Stand Count, Canopy Cover, and Plant Vigor analyses to identify plant emergence and test the effectiveness of fertilizers and hybrids performance. Detect and control weeds and stress in your micro-plots with Weed Detection and Plant Stress analyses. Here is a full guide on how to request Agremo's micro-plot analyses.
Improve the research and development processes – Perform Stand Count, Plant Stress, Canopy Cover, Plant Vigor and Weed Detection analyses to accelerate your product development cycle with accurate, automated micro-plots statistics.

Measure historic data – View and analyze the activities on your micro-plots over time and compare results at different growing stages. Easily access old reports and examine the progress of your work.

Save time and resources on field scouting – With R&D Micro-Plots Monitoring you can reduce labor-intensive footwork and have more efficient field surveys. Collecting data by drone is a faster and more accurate solution.

Obtain standardized and accurate data – Collect precise micro-plot data and have a more complete and successful crop protection process. Improve pesticide efficacy by relying on AI-based technology and objective data.

Remotely test products in a short time – Remotely track the progress of your new products. Collaborate with your team within the app and make important decisions quickly and efficiently. Rerun field analyses and detect the issues in your product development cycle.

Monitor thousands of micro-plots – No matter what number of field trials you have, our app can analyze them and provide you with accurate and in-depth information of the condition of your crops. Know exactly how your crop protection products are performing!

Increase revenue & profit margin – Optimize the usage of nutrients, and pinpoint the areas with input deficiency or poor performance. Examine performance per plot and compare the progress at different crop growing stages. All you need for successful product development.

Efficiently evaluate your products – Scouting micro-plots on foot is time and resource-consuming and prone to errors. Rely on drone data instead to solve your crop research problems.

Easier crop data management – With our wide range of analyses, you can count plants per plot, measure weed pressure, detect zones with stress, etc. Data is presented visually and you can compare different results on the same micro-plots.
Subscribe to one product only - Stand Count or Input Efficiency
Our solutions are based on your needs! R&D Micro-Plots Monitoring is the full package, but you can choose only one product if you don't need the whole solution.
Choose Stand Count product to:
Identify plant emergence
Determine the number of plants per micro-plot or a single row
Evaluate germination rate
Analyze the quality of hybrids
Optimize field trial performance
---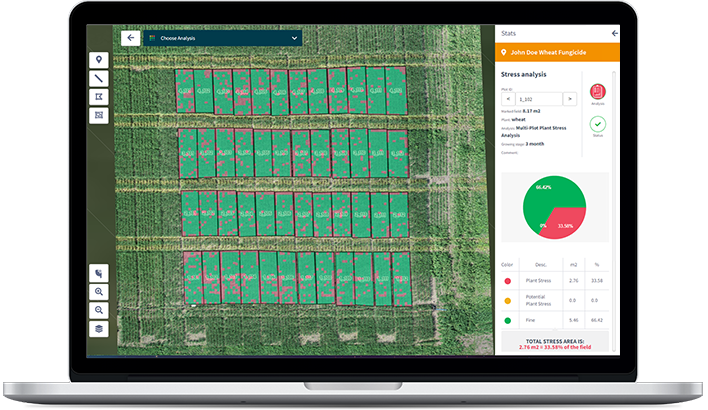 Choose Input Efficiency product to:
Evaluate pesticide efficacy
Measure weed pressure per micro-plot
Test the efficiency of other ag inputs
Identify areas with poor performance
Monitor the plant stress on a plot level
---
How we guide you all the way through the project
Recommended Crop Types
From our experience, The Stand Count product is working the best with corn, sunflower, soybean, potato whereas Input Efficiency is mostly used for all these, as well as wheat, barley, canola (rapeseed) and sugarbeet.
Purchase an annual subscription and get extra tools for FREE
Request a demo
Request a demo and in a few hours we will give you free access to our demo fields and the analyses reports together with the latest agricultural tools for precision agriculture.